Alejandro & Diane Lopez, owners of Grapes & Olives On Tap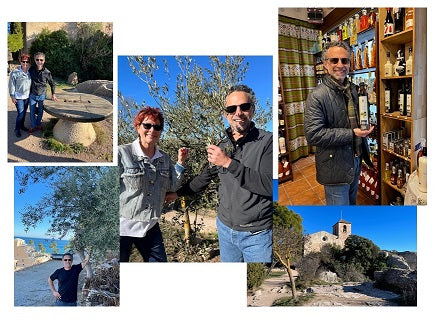 Founded in 2012, we are a family owned and operated business specializing in fresh, high quality, imported olive oil and perfectly oak-aged, Italian balsamic vinegar infused with herbs, citrus, berries, chocolate, mushrooms and fruits. Our naturally infused olive oils and balsamic vinegars do not contain artificial coloring or flavorings, or preservatives. They are also cholesterol, sodium and gluten-free. And our olive oils stay fresher longer since the actual herbs, citrus, berries, mushrooms and fruits particles have been removed, and only the natural infusions remain.
Research continues to show that olive oil and balsamic vinegar both contain healthy antioxidant-loaded polyphenols that may help prevent cancer, increase longevity, improve cardiovascular health, and lower cholesterol. And our balsamic vinegars contain only 14 calories per tablespoon with naturally occurring sugar (no added sugar). Balsamics are a great way to add loads of flavor to any food in a low-calorie, healthy way! And since it's made from beautiful, Italian grapes, our balsamic vinegar has the same healthy attributes as red wine! 
From appetizers to entrees to desserts, olive oil and balsamic vinegar can be key ingredients in the preparation of your meals.
Make your gift-giving healthy and fun by sending naturally infused olive oils and balsamic vinegars to everyone on your Birthday and Holiday lists. Our products also make wonderful host/hostess and corporate gifts.