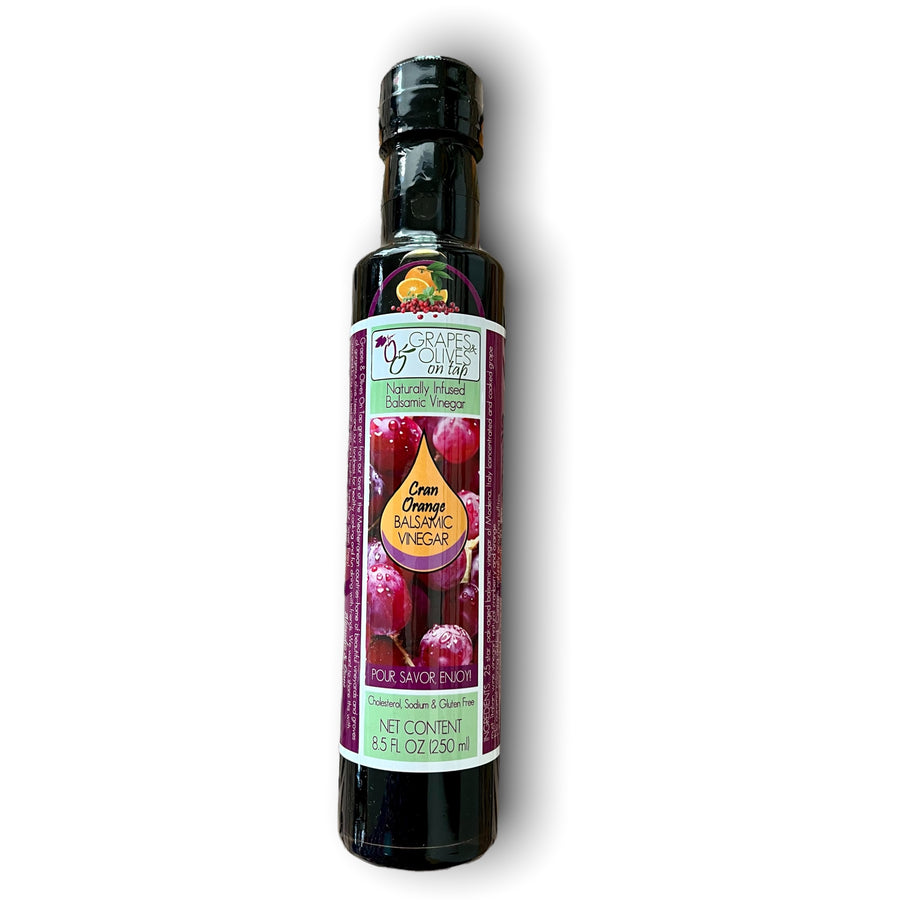 Cran Orange Balsamic Vinegar (Oak Aged)
8.5oz / 250ml bottle
• FREE Shipping Special for orders $65 and over.
• Mix & match 12 or more bottles and save 10%.
• Orders ship out within 3 business days.
• We proudly offer a 100% satisfaction guarantee.
Product Info

 A grown-up, healthy version of the sweet and sour candies of your childhood!


This amazing 25 Star Balsamic Vinegar of Modena, Italy combines two favorite flavors; Cranberry and Orange in a burst of sweet and sour! What a delicious way to add mouth-watering savory flavor to any dish!

Drizzle over a spinach salad with pears, walnuts and blue cheese and on beet/red onion salads • Use as a scrumptious glaze on pork tenderloin, salmon, pork chops, chicken and shrimp • Makes a great sauce for sweet and sour meatballs and spareribs • Add to Garlic Mushroom or Meyer Lemon OLIVE OILS for a savory marinade • Add to Basil OLIVE OIL to coat asparagus and Brussels sprouts for roasting • Caramelize onions and squash and replace butter on baked sweet potatoes • Combine with Blood Orange OLIVE OIL to sear duck and to baste turkey • Sauté with pan-drippings from seared filet mignon and drizzle over as a finishing sauce • Drizzle on mixed berries, grilled peaches, crab cakes, chicken salad sandwiches, fennel, and green bean salads • Toss with grilled chicken and orange segments over crisp Romaine lettuce.


All natural, no artificial colors or preservatives.

Cholesterol, sodium and gluten free. No added sugar.


Storage and Shelf Life

:

No need to refrigerate as they are best used at room temperature. Store them on your counter, or in your cupboard or pantry away from heat and sunlight.

Our olive oils will last approximately 2 years after opening. Already aged in oak barrels in Italy, the balsamic vinegars will last many years.