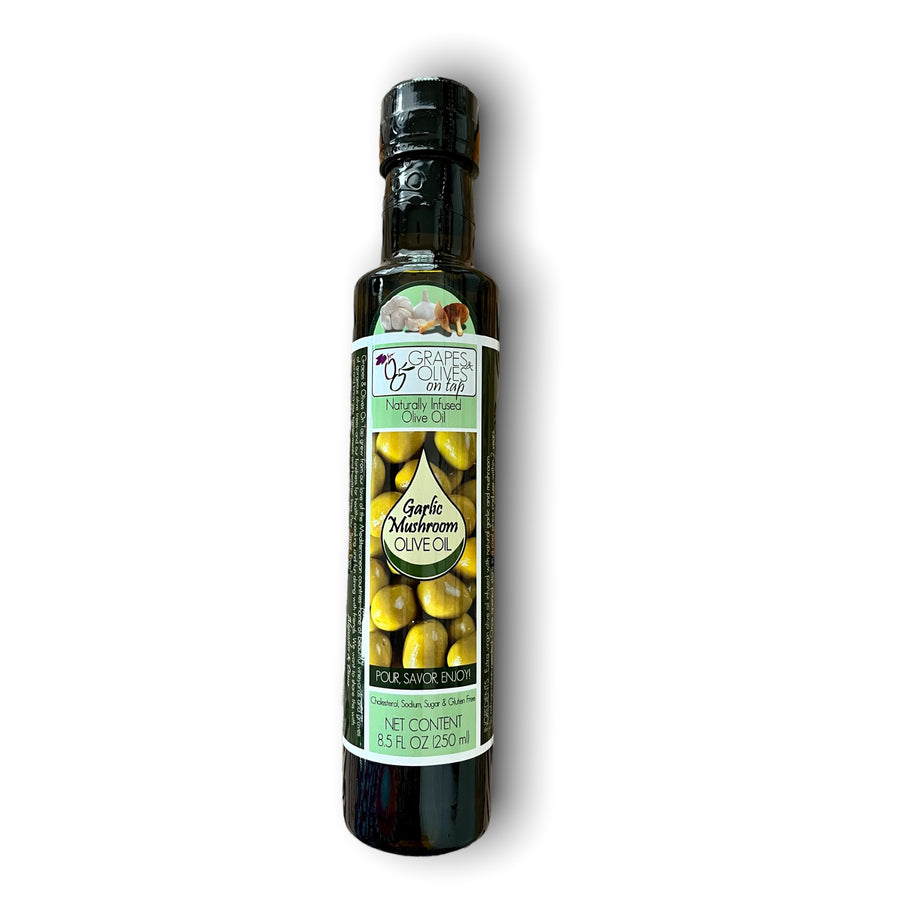 Garlic Mushroom Extra Virgin Olive Oil
8.5oz / 250ml bottle
• FREE Shipping Special for orders $65 and over.
• Mix & match 12 or more bottles and save 10%.
• Orders ship out within 3 business days.
• We proudly offer a 100% satisfaction guarantee.
Product Info

The vampires will run away, but your friends will join you!


Introducing the newest in delicious gourmet olive oil, our Garlic Mushroom Olive Oil is married with perfect complimentary natural flavors for a gourmet olive oil unlike any other! Since garlic and olive oil are almost always used together in Mediterranean cooking, you can use this in just about anything. This oil is less sweet due to its authentic, full flavor that perfectly balances the garlic with the mushrooms. The taste of slow-roasted garlic with hints of mushroom creates a savory, herbaceous flavor.

Add to slow-cooked spinach or greens • Mix with steamy hot, cooked pasta for a quick, naturally delicious sauce • A great finishing oil to brush on steaks hot off the grill • Pour on mashed potatoes and over stuffed mushrooms • Use while roasting or braising meats • Add to risottos, stuffing, couscous and rice for amazing natural flavors • Delicious for bread dipping when combined with Rosemary Olive Oil • A replacement for mayo or butter on sandwiches, bagels and panini • Drizzle on fish fillets before baking, broiling or grilling • Pan-sear fish fillets • Mix with Pecan Praline, Cran Orange or Maple BALSAMIC VINEGAR to marinate, stir-fry or sauté beef, chicken, shrimp and scallops • Pair with Pecan Praline BALSAMIC VINEGAR for roasted vegetables, roasted chicken and to marinate pork chops and pork tenderloin for grilling.


All natural, no artificial colors or preservatives.

Cholesterol, sodium, sugar and gluten free

Storage and Shelf Life

:

No need to refrigerate as they are best used at room temperature. Store them on your counter, or in your cupboard or pantry away from heat and sunlight.

Our olive oils will last approximately 2 years after opening. Already aged in oak barrels in Italy, the balsamic vinegars will last many years.